Projected Capacitive Touch Controllers
PenMount PCAP controllers utilizes microcontrollers (MCU) from world renowned Microchip as a development foundation and incorporates PenMount's specialized algorithm, powerful P2 series ICs, unique and convenient utilities, and driver support.   Different PenMount PCAP controllers can be paired with and support a certain range of PCAP sensor sizes, use the control board (C/B) and COF designs, and can support I²C, UART, RS-232, and USB interfaces according to application fields.  EMC standards (CS, RS, and EMI) conformation, water handling, thick glass, and gloved operation are also part of our technical expertise which provides customers with a stable, smooth, and unimpeded operating experience.
PenMount supports PCAP structures (GFFF, GFF, GF, G1, GG, etc.) and materials (film, metal mesh, glass, etc.) prevalent in the market.
Working Principle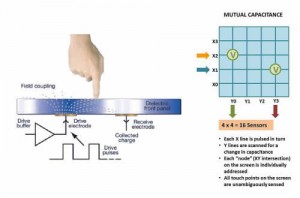 Since the human body is a conductor, when a finger approaches an electrode, the capacitance between the finger and the electrode will change.  By detecting the change in electrostatic capacitance in the XY axes, touch point locations can be determined.  PCAP touch principle operation does not require pressure on the touch surface to detect changes in capacitance.  In addition, the surface of a PCAP touch panel is glass.  Glass is scratch resistant, durable, and environmentally resistant.
The actuation principle of a PCAP touch panel begins with two layers of ITO beneath a glass surface which form separate X axis and Y axis electric fields.  The electric fields extend beyond the glass surface and maintain a field balance.  Once a finger nears the glass surface, it forms new electric fields with X axis or Y axis electrodes, partially changing capacitance.  The controller determines touch location according to capacitance changes.
Touch Controllers
PenMount PCAP touch controller design can be divided into two major categories.
PCAP Control Board Solution
Different control boards can support AMT PCAP touch panels in different size ranges.  The analog touch signal connects to the control board through FPC and is converted by the controller IC into touch position data.  The serial interface connector (i.e. USB, UART, I2C RS0232, etc.) on the PCB transfers this data to the host computer.
The advantages of this design are:
Controller IC separate from touch panel for higher design and integration flexibility.
Faster validation for small batches and lower costs.
Supports thicker top glass.
Stronger noise handling capability and less susceptible to interference from other components.
However, attention should be paid to FPC length ad position to prevent external noise from interfering with the weak analog touch signal.
Currently, PenMount PCAP control boards utilize the following designs for PCAP touch panels of various sizes according to variations in the number of touch panel driving lines and sensing lines:
C/B
PM1711
PM1710
PM1500
PM1410
PM1401
PM1310
PM1302
PM1210
PM1201
PM1100
Size
15.6"~24"
15.6"~24"
15″~18.5″
12.1″~15.6″
11″~15″
8"~10.9″
8"~10.9"
5.7"~7"
5.7"~7"
3"~4.9"
Interface
USB, I²C,
UART
USB,
RS-232
USB,
RS-232
USB, I²C,
RS-232,
UART
USB,
RS-232,
UART
USB,
I²C, UART
USB,
RS-232,
UART
USB, I²C,
RS-232,
UART
USB,
RS-232
RS-232
In terms of the noise interference issue, the PenMount PM1310 , PM1410, and 1710 have obtained EMC Level III certification through testing according to the following standards.
IEC61000-4-3 Level III (RS test, Passed 10V/m, criteria A)
IEC61000-4-4 Level III (EFT test, Passed Vpp ±2KV)
IEC61000-4-6 Level III (CS test, Passed 10Vrms, criteria A)
The PenMount PM1310 , PM1410, and 1710 utilize consummate hardware design paired with firmware equipped with a next-gen Frequency Hopping algorithm to effectively reduce the chances of noise interference and clearly enhance the controller's anti-noise capabilities.
In addition, PenMount PCAP controllers also support gloved operation.  There are many types of gloves and they possess different characteristics (dielectric constants).  PenMount PCAP controllers have experimented with common glove types (i.e. rubber cleaning gloves, industrial cotton gloves, medial latex gloves, etc.) to ensure normal gloved PCAP touch panel operation.
PCAP COF Solution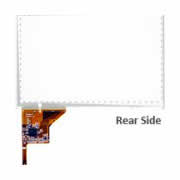 COF refers to Chip on Flex, a process of installing the controller IC directly on the FPC tail (PCAP touch panel line out). The analog signal is converted into location data and transferred to the host computer through the FPC serial interface (i.e. USB, I2C, UART, etc.)
Currently, PenMount has developed four COF controllers that can be paired with 3.5"- 10.4" PCAP touch panels.  The advantages of PCAP COF design are as follows:
Controller IC integrated with touch panel. Space designed in the mechanism can be smaller.
Less signal wires after conversion to digital signal so FPC can be designed into various long or curved shapes. Easier to install in small products.
Does not require connector or cable between touch panel and system interface.
COF touch panel design is suitable for products designed to be thin and light (i.e. portable products with limited system space) and best paired with low noise LCD modules.  If you have custom COF needs, please contact us.